| | | |
| --- | --- | --- |
| | UCLA Faculty Women's Club | |

The Walking and Hiking section plans 5 walks during the year to explore different places of interest in the Greater Los Angeles area. Outings vary in duration and difficulty. Wear comfortable walking shoes or hiking boots, sunscreen, and bring a hat and water.
Members enjoy easy to moderate walks/hikes for 1 to 1-1/2 hours with lots of good company. Join us on our adventures as we trek everything from urban walkways to rustic trails in nearby parks and canyons to pathways by the beautiful Pacific Ocean and more.
For more information, send an e-mail to FWC at uclafwc@ucla.edu and put Sections-Walking and Hiking as the subject.
October 2010 Walking and Hiking is joining with the Galleries and Sights Section for a docent tour of Castaic Power Plant located
at the upper end of the west arm of Castaic Lake and near Pyramid Lake.
Palisades
January 2009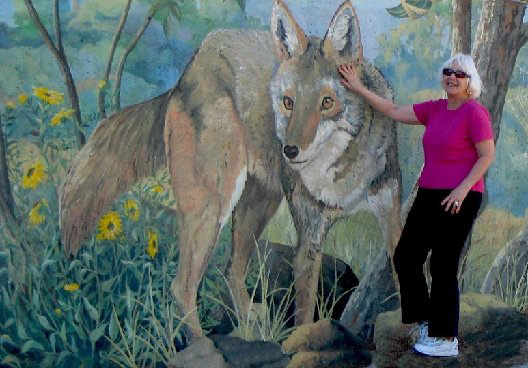 Roma pauses in front of giant mural of a coyote during a hike up the Los Liones trail above Temescal Canyon
off
Sunset Boulevard
. The coyote is one of the many animals indigenous to the
Santa Monica Mountains
that
are depicted on the huge mural. February 2009.
Photos from the previous meetings:
February 2008
Benedict Canyon

Marina del Rey
Topanga State Park
Lake Balboa
High above Mulholland Drive